Homemade Ravioli and Farm Stay in Tuscany | Travel Diaries 3
So after we completely stuffed our faces at the Titignano Castle (you can read about those adventures here), it was time for us to head out to a little farm in Incisa, Tuscany. We were in for an authentic farm stay, coupled with a homemade ravioli cooking lesson. To say that we were excited is a massive understatement!
What's the one thing that you literally cannot plan for and is bound to happen at least once? Yep, you guessed it, late trains. We were supposed to leave Orvietto at 11 am to catch a train from Arezzo to Incisa at 1 pm. And of course, our train leaving Orvietto was delayed to like 2 pm. So yeah, so much for catching that connecting train…
We managed to get a hold of our hosts to let them know that we would be arriving much later than anticipated and from there it was just a lot of waiting and a lot of stressing. We didn't really know if the train ticket staff at Arezzo would be able to help us get to Incisa or even if there would be another train but hey, when in Tuscany, amIright? 
After getting to Arezzo, we tried to sort out tickets to get to Incisa but the guy kind of mentioned two different options. One train went directly there but took longer and the other option involved getting off at one of the stops and switching trains. Honestly, he didn't really explain it very well and he spoke really fast so we weren't 100% sure which train we were supposed to get onto. We stumbled onto the platform and looked around for a familiar train name. After jumping onto one that we thought was maybe correct, we planned on finding someone on the train to double-check that it was the right train. Before we had time to do any of that, the doors closed behind me and my heart stopped. I spun around and slammed by hand over the "open door" button as if my life depended on it. That pretty much spiralled us into frantically screaming "Incisa?!" to everyone in the train because we thought it was about to leave and we had no idea if we were about to end up in the middle of f***ing nowhere. Their reactions were mostly annoyed but their wary nods were enough for us to crumble into a pile of relief. Such bloody tourists 😉
Once we arrived at Incisa in one piece, we were picked up by Francesco, Francesca's husband (yeah I know, that definitely wasn't planned, right?). They were our hosts at the Poderaccio Organic Farmhouse; our home for the next few days. 
I know I'm going to say this every single time I write about our time in Italy and you're probably sick of hearing it but it's so beautiful. Genuinely. The rolling hills and old farmhouses could steal anyone's heart. 
The cottage that we were staying in was gorgeous in its simplicity. The kitchen was super open and you had everything you needed. Nothing more and nothing less. The only thing that seemed out of place was the jacuzzi around the corner. But don't get me wrong, we definitely weren't sad about that.
How We Spent Our Farm Stay In Tuscany
That night I had the first proper night's sleep in a while. Probably because we had actual beds and this time, instead of a mat in a teepee, and we didn't buy wine instead of bedding. So we were feeling great and decided to walk into the town for some gelato. The walk took us about 2 hours. Partly because we were chilling and taking in all the beauty of the farms and partly because we got a little bit lost. I mean, it's not the worst place to get lost. 
We eventually made it and rewarded ourselves with way more gelato than we needed. But you can never have too much of that gelato. Things started to get late and we needed to find WiFi to ask Francesca to come fetch us. It was a pretty small town and all the shops and restaurants started closing much earlier than we expected. We very quickly ran out of options but thank goodness for the youth. We eventually found a young local to help us out by making a hotspot with his phone. We didn't know if Francesca got the message so we found a payphone and tried to give her a call but I sh*t you not, it didn't offer calls. It would let us fax, email and SMS but not phone. What in the hell is this? Either that or we're just complete idiots who don't know how to use a payphone. Which I guess is actually more likely than a payphone that doesn't phone.
From there, we just hung around benches and vending machines until Francesca arrived. Let me just say that Italian vending machine snacks are weird. It seems like their standard of food across the board is so high and you would think that it would translate into good vending machine snacks. But I can tell you from personal experience that that is not the case. Definitely do not recommend. I would highly recommend pretty much everything else about Italy but yeah no, not the vending machines.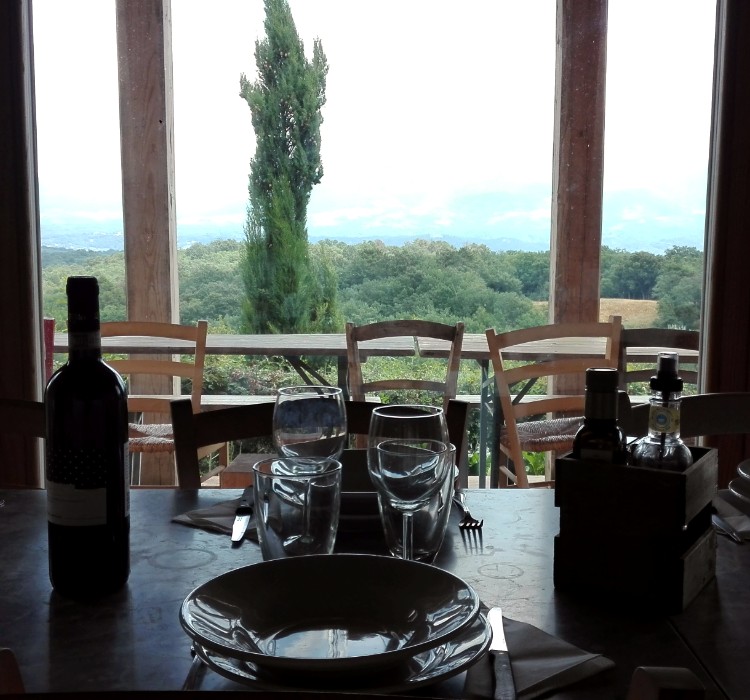 This was hands down the highlight of our stay in Incisa. It wasn't just a cooking lesson, it was a feast. Francesca took us through the whole process of making the filling, kneading and rolling out the dough etc. for the ravioli. It was awesome to learn how to make pasta from scratch with someone who had clearly done this a lot. I really did love the learning process but is it bad if I say that that wasn't even the best part? The best part was the rest of the food she had made for us to keep us busy while the dough rested.
I'm not talking about some crackers and cheese. I'm talking about fresh focaccia straight out the oven, with pickled vegetables, sundried tomato, artichoke tapenade (all freshly made with ingredients from their farm or locally sourced), sourdough bread and an endless flow of white wine. That focaccia still haunts me to this day. I know I sound dramatic but seriously, it was life-changing.
Just from the "appetizers", I was already pretty full and we hadn't even eaten our own pasta yet. We finished off with rolling out the dough and making the little ravioli pockets with our spinach and ricotta filling. Francesca showed us how to make the sage and butter sauce and we got cooking. That was served with a big salad, beans, cheese, honey and more wine. I swear I had about three bowls of pasta, plus all the sides. By this point, I was literally about to explode and then she brought out dessert. It was a dessert wine with biscotti. I could only manage one because I was so full but it was delicious! 
We pretty much rolled back to our cottage after that but the whole experience was amazing. I remember just napping the rest of the day and feeling like I was floating because I was so happy.
The next day, we woke up early to head off to the Cinque Terre. Francesca drove us to the train station and sent us off each with a bunch of lavender which was incredibly sweet. Our whole stay there was wonderful and both Francesca and Francesco were amazing hosts. Next was some seaside villages…