Beaverlac Campsite Review
Katherine Pannell | 24 April 2020
Have you ever wanted to disappear for a few days and completely immerse yourself in nature?
When I think about escaping into the outdoors, the first thing that comes to my mind is camping. Cape Town is no stranger to natural beauty and is packed with fantastic camping spots. So after doing some digging and chatting with some friends, we decided to go for Beaverlac. I can genuinely say that we had a great time. Most of that will always be due to the amazing people, but I can't deny that the facilities at Beaverlac had their part to play. So I thought I would just share my experience and give a quick review for anyone looking for more information about the place.
The Beaverlac campsite is in Porterville, in the Olifants River Mountains, which is about a three-hour drive outside Cape Town. It is well-known for its rock pools and is generally quite a popular campsite. The main pool is the closest to the camp area. It's nice and big and it has a rope up the side of the rocks so that you can climb up and jump off the top. Admittedly, I was a little terrified to jump. Nevertheless, it was a lot of fun!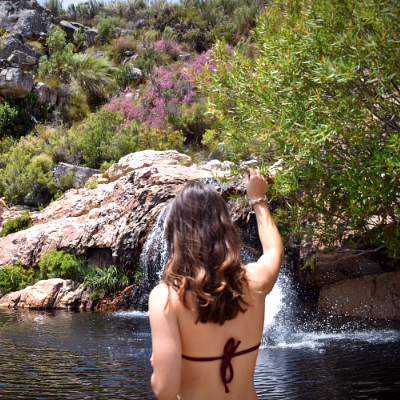 Photograph of the Main Pool
In addition to the main pool, there is a not-so-secret secret pool. This was probably my favourite one. It was a little bit less busy, probably because it is slightly further away than the main pool, and it was smaller. It was just really beautiful and sheltered.
Photograph of the Secret Pool
If you are more adventurous, there is also the totem pool. This is one that you have to hike up to and I won't lie, the path there is a little sketchy. We got lost multiple times because the path isn't always very clear. We also didn't really know what we were looking for so at every body of water, we were thinking is this it?. It took us about an hour and a half, maybe more, to finally get to the pools. However, it is so beautiful, I'd definitely say it was worth it. 
Photograph of the Totem Pool
There were also plenty of pools along the path that you could stop at. One of the stops is supposed to be a bum slide, which I was personally very excited about. However, it was a little disappointing. Maybe it was just the time that we happened to be there but the slide was pretty dried up and wasn't exactly what I expected.
What You Need To Know About Beaverlac
I personally enjoy camping with minimal luxuries but I know that isn't for everyone. So here are some things you need to know about the Beaverlac campsite facilities before you go:
no power points in camping area.
absolutely no music allowed.
They do have a shop there and although they say it is just the basics, it is actually quite kitted out. Whatever you have forgotten at home, they probably have it. You could honestly just pack your tent, a pot and some cutlery and you would likely be able to get everything else from the store. 
Other Important Information
In terms of prices, I think that the Beaverlac campsite is very reasonable. Especially if you're a student, this is a great place to check out.
Age 18 and above: R75 per night
Age 4-17: R45 per night
Under 4: Free
The part that confuses me is that man's best friend is going to cost you almost as much as a human best friend. They charge R50 per night for dogs. Since when is it cheaper to have a child than a dog?
What is really nice is that you can arrive as early as 8 am and only need to leave your campsite by 5 pm. Just note that the times are different if you are staying in a cabin.
At each campsite, you will find a tap for water and a small fire pit area. There are bathroom facilities scattered near all the campsites. I found the bathrooms to be pretty clean and the addition of hot water made it extra nice. Outside each bathroom is a sink area for washing up, which is quite convenient. I would highly recommend bringing some toilet paper and a sink plug to save water when washing up.
Final Points on the Campsite
Since Beaverlac is so popular, it can get quite busy. We arrived mid-week and it was lovely; we barely had any neighbours. However, as soon as the weekend arrived, it was a completely different story. It seems as though all the camping veterans show up on the weekend. I'm talking big bakkies packed with fridges, gazebos and solar panels.
For some comparison, we literally didn't even have chairs or a table. We were squatting by campfires and chopping onions on rocks while these guys had essentially relocated their entire homes. Despite feeling extremely underprepared, we honestly had everything we needed. 
Basically, whether you're making a plan with what you have or you're properly kitted out, Beaverlac is a great place to get away from everything and just have an awesome time swimming in the sun all day.
Overall, I would definitely go back at the first chance. I wouldn't recommend it if you want some luxuries when you camp like plug points etc. However, it is by no means roughing it. You have proper bathrooms with showers, running water and a shop nearby. Personally, I don't know what more you need. Feel free to drop a comment below if you have any more questions and you can check out their website here.