Incredibly Easy Coffee Dessert Recipe
This coffee dessert is so simple, it's almost criminal to write a recipe for it. How do you feel when I say coffee mixed with gelato to create a magical dessert-beverage love child? Hopefully, very excited, if not at least a little bit intrigued. This Italian secret is the Affogato. 
Affogato translated into English means "drowned" and that's literally what it is. Gelato drowned in a shot of espresso. You can also adapt this to include a shot of amaretto or other liqueurs. We're keeping this one child-friendly but just thought I'd put that variation out there 😉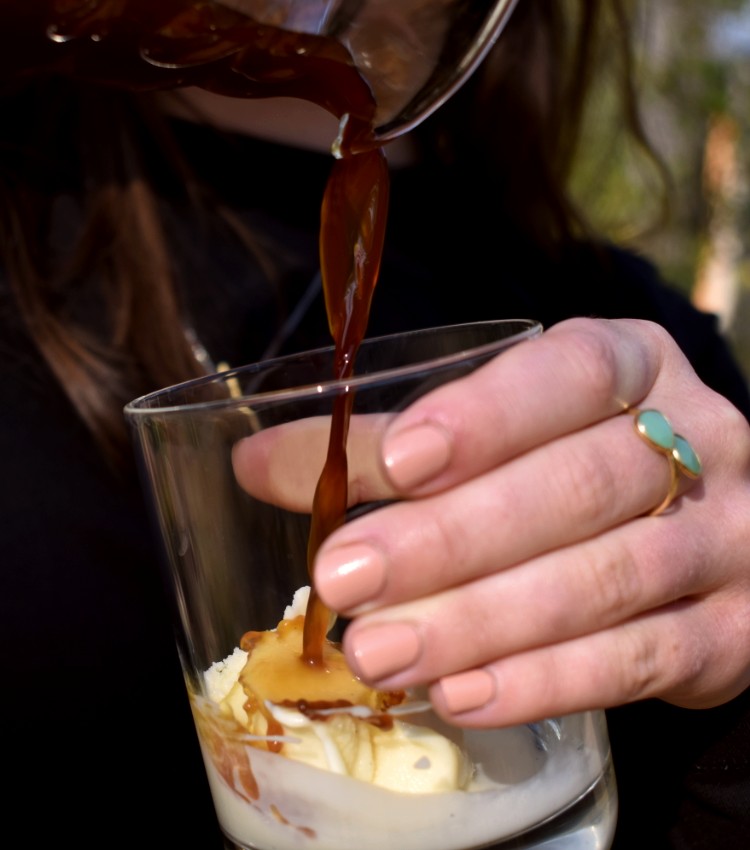 Grab Your Coffee Dessert Tools
At only two ingredients, this section should be unnecessary but if I can ask why we don't have "anti-microwaves" and forget that we have refrigerators (that engineering degree REALLY shining here), there's probably someone out there that appreciates this detail. There's always one of us hey…
So you're going to need some delicious coffee. Much like my blog on The Milky Coffee Hack You Have To Try, this has a lot to do with your personal preference. Whichever way you want to brew the coffee and whatever coffee you use is completely up to you. Although, I would recommend using a brew method that gives you a nice strong shot. This coffee dessert is, after all, based on having a shot of espresso. A Moka pot or an Aeropress does an awesome job if you don't have the whole setup of an espresso machine.
And, of course, you will need some gelato or ice cream. Vanilla or a very neutral flavour would be my go-to and I would highly recommend gelato over ice cream if possible. However, ice cream is still delicious and I'm not the Affogato police so if you want mint ice cream with your shot of espresso, I really couldn't care less. The whole point of this is to make something that you like.
Specific Coffee and Gelato Recommendations
How To Make The Coffee Dessert
I mean…you put some gelato in a mug and pour coffee over it. Like there's really not much more I can say. Part of what makes this dessert so amazing is that it's really really difficult to mess up.
If you want to be more particular about it, I will say that I prefer having one small scoop of ice cream with the shot poured over. If you go crazy with the gelato, you're steering into the coffee milkshake territory and that's not what we came for. So yeah, if the coffee milkshake version tickles your fancy, that's great. But I do think it shines more when the gelato is kept to a minimum.
I really hope you try this for yourself at some point. You're seriously missing out if you don't at least taste an Affogato once in your life. Happy coffee dessert making!
Check out some other blogs.
Italian food has always been a fan favourite but there are certainly some restaurants that do it better than others. That's why I made this list of the best Italian restaurants in Cape Town…
Whether you're a tourist or a local, sometimes we all need a little help choosing where to eat. If you're a brunch enthusiast, I've got you covered. So here is my personal list of the best breakfast restaurants in Cape Town…
We've all been there, am I right? Passing a course that you hate can be really difficult so here are the five tips to get you through the worst…